When working in the SEO industry, there is always a need for adjustments and quick reaction based on current events and Google algorithm updates. When these events happen, it is crucial to adjust your search strategy in order to find out what was the impact of the update on a specific industry or website.
The Coronavirus (COVID-19) and subsequent shifts in consumer behavior, came as a huge surprise to most marketers. While some marketing activities have been stopped, others increased, and according to SimilarWeb data, some websites reacted fast and actually saw organic traffic increase in these days.
Using SimilarWeb to Identify Fresh Keywords
With audiences moving indoors and practicing social distancing, a variety of day-to-day activities, which used to be obvious and clear, now require research, consideration, and planning. This new way of living has opened up room for dramatic changes in how we internet, including, but not limited to – how we search. This change in search behavior has led to changes in how sites are receiving traffic.
One of the websites that saw dramatic increases in organic traffic is walmart.com. Using SimilarWeb Pro's Search Traffic > Keywords Breakdown over the last 28 days, we can identify exactly which keywords contributed to this organic growth.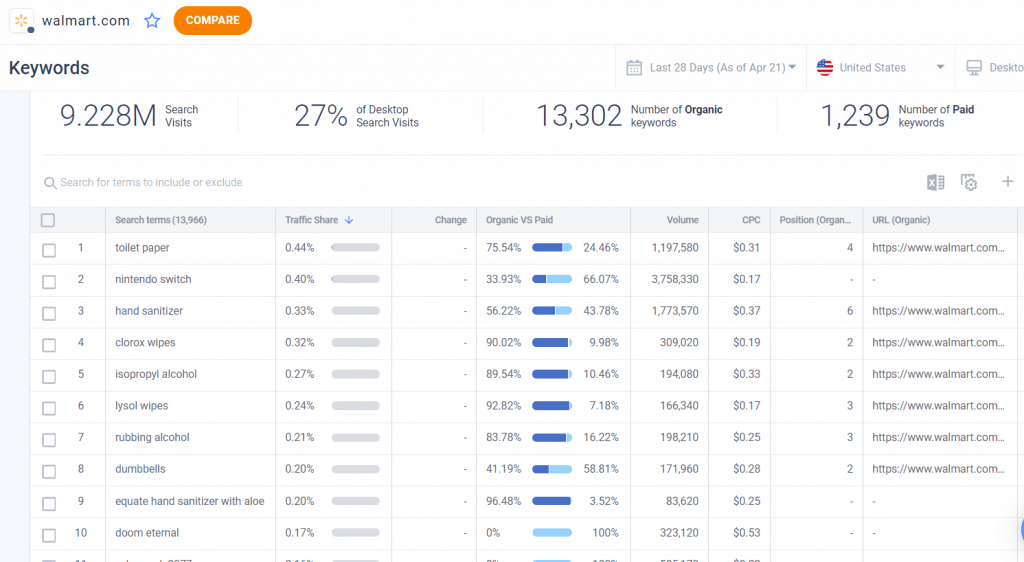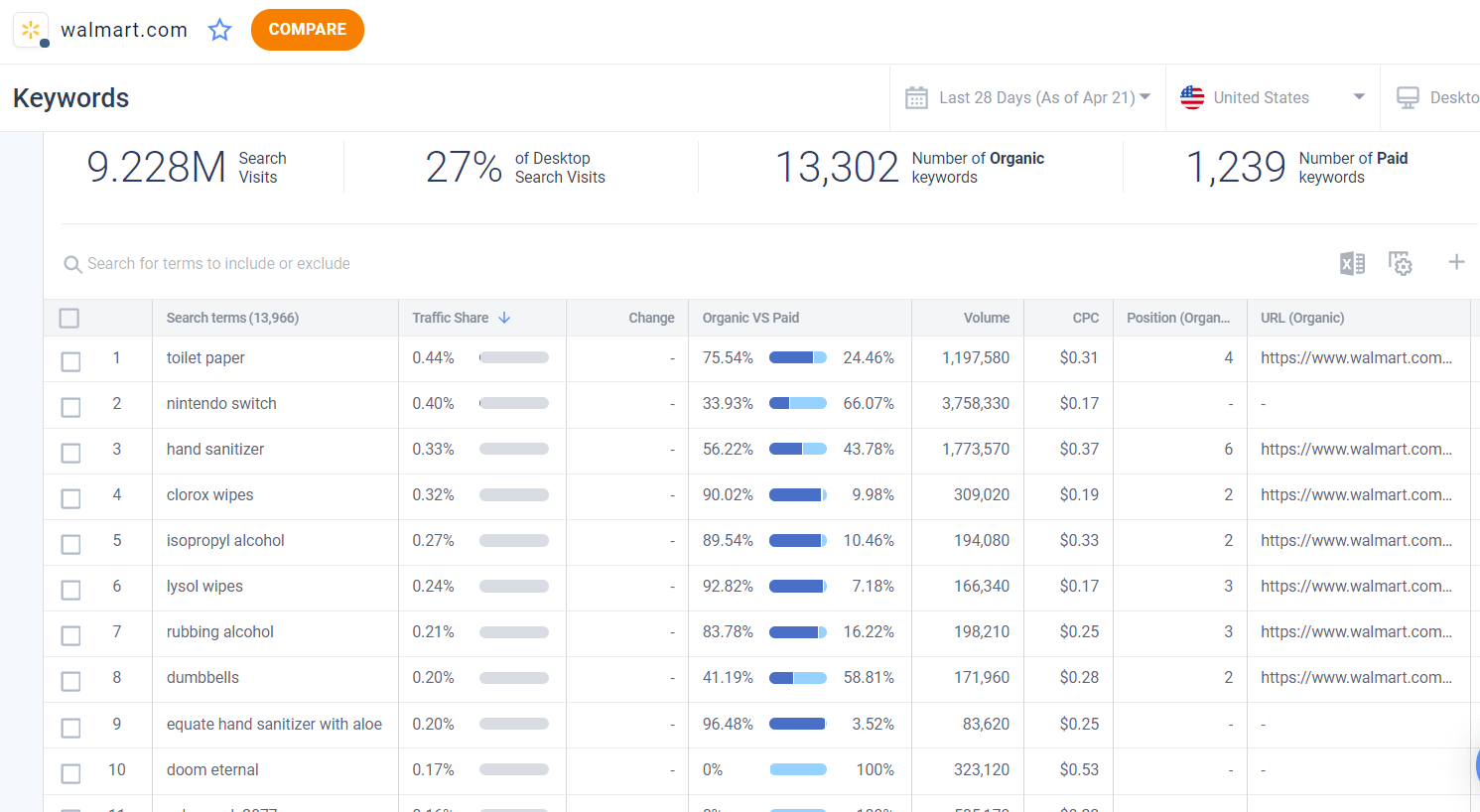 Filtering out branded keywords can help clarify the image: all of the top non-branded keywords driving traffic to walmart.com are related to the Coronavirus. The keyword "toilet paper", a Coronavirus staple since the beginning of the outbreak, leads with 0.42% of walmart.com's search traffic. "Clorox wipes" follow with 0.31% as well as many other keywords related to sanitation, face masks, and grocery delivery.
In fact, a review of keyword phrases containing the string "toilet paper" reveals that this keyword was completely irrelevant for walmart.com prior to March, when it jumped from 0% traffic share, to 2%.


Diving Deep into Keyword Opportunity
The next step to identify how a keyword has been performing is running it through SimilarWeb's Keyword Analysis tool, which reviews keyword search vs click volume, and identifies which sites receive the traffic from it – both paid and organic.
Who Gets the Traffic?
SimilarWeb also allows you to get an understanding of the competitive landscape for any keyword. In the case for "toilet paper" in the last 28 days, traffic has gone to homedepot.com 8.6% of the time, followed by amazon.com at 8.3% and walmart.com at 7.7%. This is quite a change from just two months ago, when in January, amazon.com got 25% of the organic traffic from this keyword.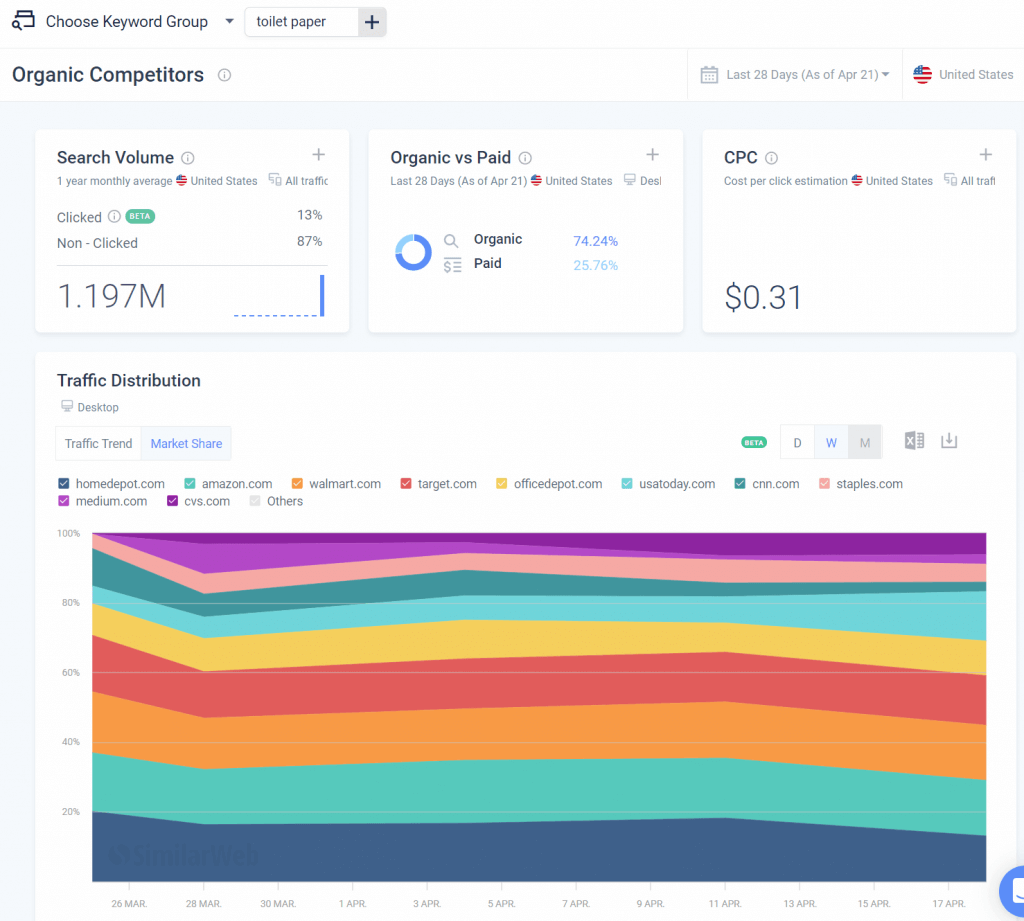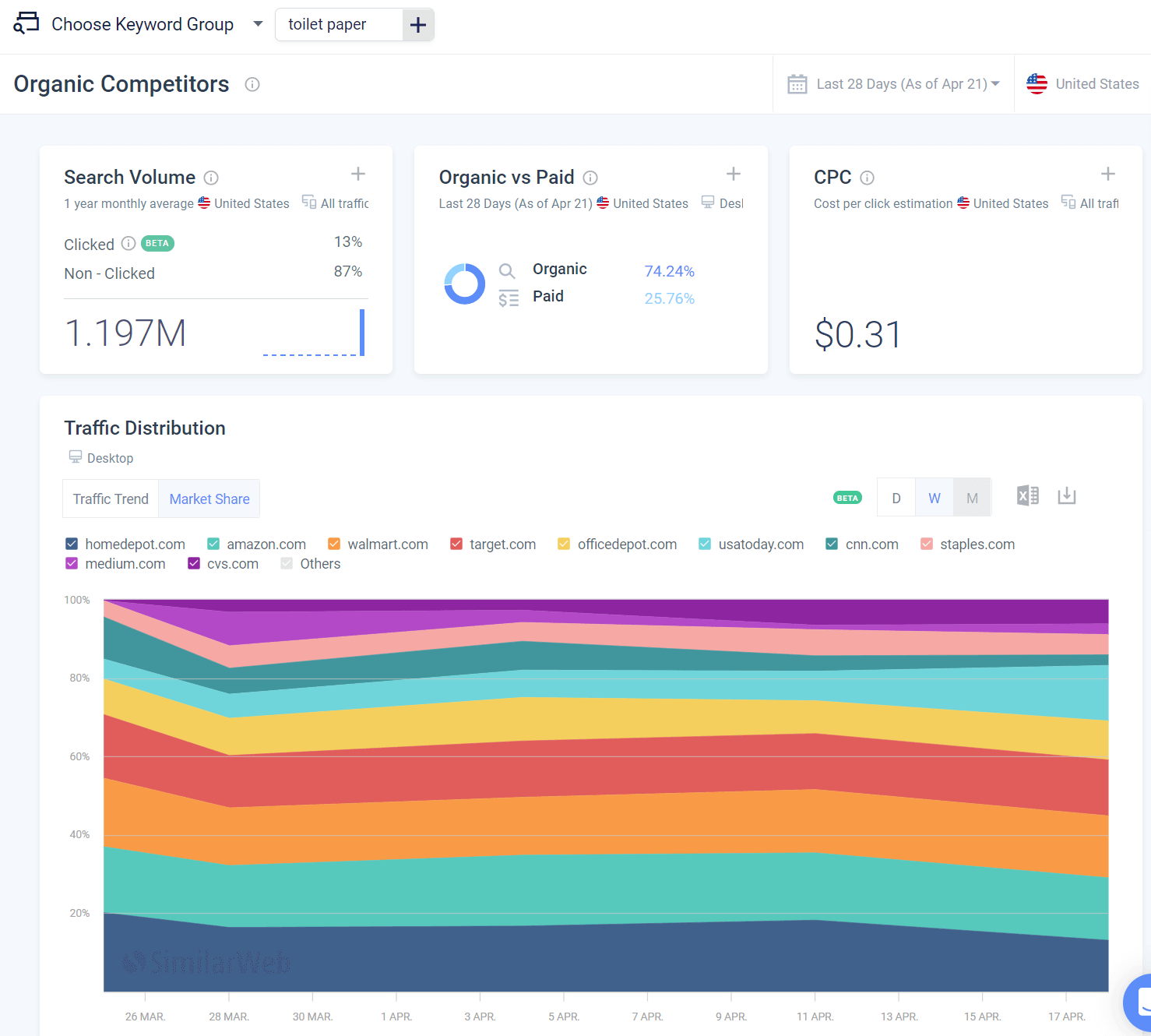 Taking this a step further, we can actually identify the unique URL (landing page) per keyword for each domain. In this case, each e-commerce site's "toilet paper" section is the clear traffic winner, but we can imagine these evolving into SEO-rich product pages as the keyword continues trending.
Search + Click Volumes – an Invaluable Duo
At the top right corner of the Keyword Analysis results page is a breakdown of search volume and clicks: using this, we can see beyond the number of searches, into how valuable this keyword is for me. Understanding now just many searches are completed every month, but also many actually result in a click is an invaluable insight which allows us to identify a keyword's true relevance. What good is it, knowing that a keyword is trending in volume of searches, a figure provided by other SEO tools, without the insight that it is also likely to result in a click?
In the above example, we can see that prior to Coronavirus, audiences searched for "toilet paper" on average, less than 100K times per month. In March, that figure increased to 13.6M times. Additionally, over the past year, "toilet paper" keywords result in a click just 13% of the time – but it is a sure bet that this has also changed in the last month.
Fresh Keywords Means Fresh Content
Revisiting the old adage that Content is King – it's better to say Fresh Content is King. Knowing which keywords are trending now, how likely they are to result in a click, and who is getting the traffic for them, is truly the complete picture of maintaining fresh content. These insights can help any SEO master implement important improvements to their strategy, including:
Build dedicated pages for products that are currently trending
Optimize internal linking with anchor texts related to popular topics
Produce blog posts and internal content that provides more value than the competition
Generate SEO tags (title, meta description, and headlines) which include trending keywords
Optimize ALT tags for images, including the correctly phrased keyword
Fresh Keywords + SEO Process = SERP Position 1
To review the findings in this post – fresh and accurate keyword data is a powerful tool, allowing you to get a real-time perspective on keyword growth. Armored with SimilarWeb data, you can then understand the potential traffic to gain from any keyword, and make decisions on how to optimize your site's SEO to tap into this trend, and reach the top of SERP.
Learn how to optimize your marketing strategy, especially during this time of crisis, with our latest report